Mozilla aren't feeling the love for OKCupid
The internet has exploded (from
CNN
to the
Beeb
, it's everywhere!) over claims of unrest between Mozilla and OKCupid, as it's claimed the Firefox CEO supports the anti-same-sex marriage campaign. Whether this is true, or something to do with the dawn of April Fools (it launched into the world on the eve of this mischievous day) remains to be seen!
Feeling foolish
...and talking of April Fools Day - it's April 1st and naturally a host of spurious news articles have popped up around the world - from
Google's 'magic hand'
to a
proposed redesign of the Union Jack
(without the Scottish bit!). Did you see any others that beat these?
It's certainly
a terrible day to announce any serious news
- as no one will take you seriously! Which is why we sent our monthly enewsletter out today. Hmmm. Still it's past mid-day now, so everything else is true - we promise!
more info:
»
Design Week - Were you fooled?
»
The Guardian - April Fools 2014
The Design Museum has launched their
2014 Design of the Year exhibition
, an annual event which celebrates the world of design in all it's glory! From the life changing floating school in a Nigerian lagoon to the less serious Dumb Ways to Die app it's always a great exhibition, and will open up your eyes to many exciting designs that you may not have known about.
Create musical sounds and colourful animations whilst you try to avoid looking at the emails piling into your inbox this lunchtime, all thanks to Google designer Jono Brandel and his little creation
Patatap
. A little bit of relaxing entertainment over a sandwich is just what you need, although be careful; it's easy to get sucked in!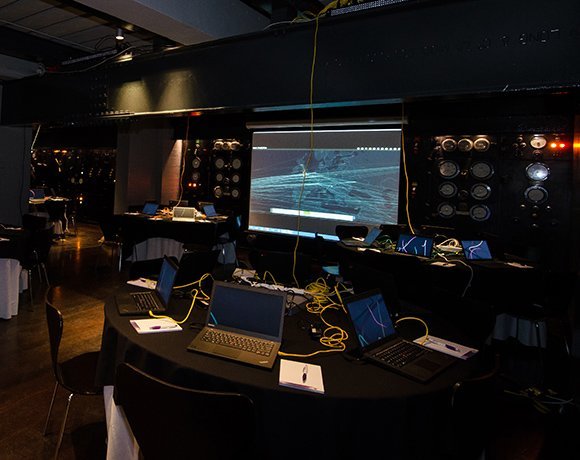 Flagday
On March 15th we were invited to the 2014 Cyber Security Challenge UK Awards Ceremony at the Institute of Directors. We've been working with the Cyber Security Challenge to create a completely new website for them - more on that when it launches soon!
The organisation was set up to encourage more talented people to join the cyber security profession and is sponsored by groups and companies as diverse as GCHQ, Symantec, HP and Royal Mail (among many others). Each year they set up a series of challenges - from online competitions to full-on terrorist attack simulations.
These led up to the final 'masterclass' which involved 42 of the best players that had beaten their way through to the final round. This challenge was designed to test a wide variety of skills - and to add to the stress it took place over two days in an underground bunker beneath London within the Churchill War Rooms. The finalists had to contend with warning lights flashing away, sirens going off, briefings to ministers and press conferences to manage - all the while trying to contain an increasing (simulated) cyber attack on the UK's infrastructure - scary stuff!
In the end, 19 year old Will Shackleton was awarded the top prize - and has pretty much guaranteed a top job in the industry. The awards themselves were a glitzy affair in a wonderful location. The only worrying point of the evening came right at the end - when the ceremony was interrupted with a rather terrifying video message from a group calling themselves the 'Flag Day Associates'. We're not sure whether this was a real terrorist warning - or maybe clever way to kick off the start of the next series of 'challenges' - take a look below and decide for yourselves!
More info about the event:
When brand videos go bad
The satirical
video
, titled This Is A Generic Brand Video, is the brain child of writer
Kendra Eash
and stock footage provider
Dissolve
. It sees the stock footage lead brand video act as fuel for the satire that is the world of stock imagery and footage providers (and of course the brands themselves to follow this particular formula). Of course our own brand videos (such as Informa, Seanhanna and Technology Partnership) break the standard mould and offer our clients a little something more than the usual! FYI if you missed out on the comedy that stock imagery can bring, check out
Women Laughing Alone With Salad.